Let us manage service by Kubernetes.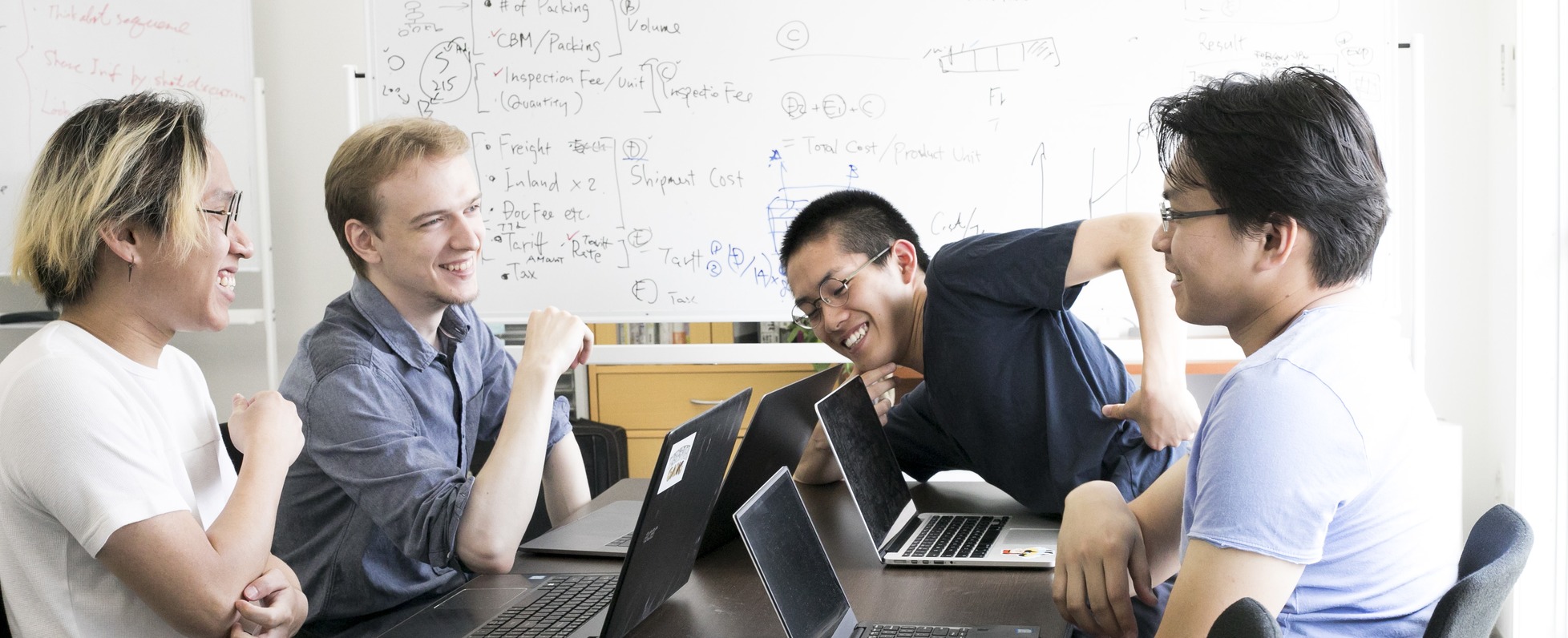 CEO, Engineer

Background:
Master of Mech Eng. The Univ. of Tokyo
Undergrad of Mech Eng. The Univ. of Tokyo
Study abroad in Tsinghua Univ. (China)

Skill (Engineer):
Blockchain(Bitocin, Ethereum)
Swift
python(Django)
ruby(Rails)
PHP(Laravel)
Node.js(Meteor, Express)
Javascript/HTML/CSS

Full stack Engineer from Taiwan.

こんにちは!
My name is Kevin Nguyen and I am from Hawaii.
I have a BS (Bachelor of Science) in CS (Computer Science) from the University of Hawaii at Manoa.

My dream has always been to work in Tokyo.
I love Japan's culture and food!
I hope that my skills developed from formal Western education can be...
If there is anyone out there, who still doubts IT is what all things are possible, who still wonders why international trade is still out of date, who still questions why you can not change it, "Zenport" is your answer.
"Zenport" is an international trade service for enterprise. It will power exporters and importers by decreasing their backend tasks and optimizing their logistics with AI and Blockchain.
With Zenport, we will change the international trade, and make the world more flat.
Our vision, in short, it is to unify the world,
That is, the completion of globalization.
Globalization, it originates in the new continent by Columbus in 1492.
For the first time in human history, "world" came to mean "all places on the earth".
With this achievements of Columbus, the world has changed completely.
The migration of food, resources, and human beings between the New World and the former continent has changed the world significantly.
For example, it was a potato that met European hunger, rubber that caused industrial revolution, silver that established the monetary system.
This intercontinental fellowship is called "Columbus exchange".
And the rapid change that resulted from it has come to be called posterity, "trade revolution".
As a result of this trade revolution, the world was connected to one.
In terms of trade, what Columbus did was to expand its face.
However, there are still many obstacles in this aspect.
Numerous documents. Complicated tax system. Laborious settlement.
These pre-modern tasks prevent the the smooth flow of things.
Moreover, because of the those problems, individuals who want to start trade cannot make values for the world.
We hope to change this situation by cutting edge technology.
- Automation of document preparation / verification
- Automated arrangement of customs clearance
- Automatic settlement linked with movement of goods without collateral required
Maker can concentrate only on making things.
We want to make such a world.
We will distribute more products in the world than ever before.
Then we will accelerate the world economy.
We have defined this as a trade revolution since Columbus and we are working on this realization.
We have eight members and six of them are engineers,
CEO is an engineer too, then you don't need to mind about communication.
Our team is a international one. The members come from Taiwan, US, Spain, India and France . Our common language is English, so you don't need to mind about communication, even though you are not good at Japanese.
All of us hope to make our service to be used in the world. We will expand our service globally, Asia, U.S., Europe and your country too.
If you also believe in we will make it, why not join us?
We are looking for full-stack engineers who will join us and develop our service Zenport, the enterprise software for international trade.
Let's create the B2B software that will be used worldwide.
【RESPONSIBILITIES】
Develop back-end of Zenport
【REQUIREMENTS】
- Node.js
- Golang
- Docker
【PREFERED】
- Functional Programming
- Hadoop/HBase/Spark/Hive
- Elastic Stack
- React/Redux
- ES6
- RxJS
- Mocha
- Webpack
【Nice- to-Have】
- GCP
- Kubernetes
Basic info
Looking for
Engineer/programmer
Job type
New grad/entry level / Mid-career
Special features
Available to talk on Skype / Foreign nationalities welcome / Come visit with friends / Students welcome / Free snacks/lunch
Company info
Founder
加世田 敏宏
Founded on
July, 2015
Headcount
11 members
Industries
Circulation / Retail Sales / Trading / Wholesalers / IT (Telecom/SI/Software)
Recommendations (176)
View all
Recommendations (176)
View all
3-7-16, Mita, Minato-ku, Tokyo, 108-0073, Japan Mita-hachiman Bld.1101